Click the Exhibit button.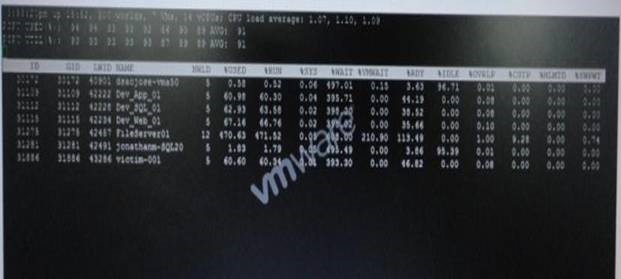 ACME Catering Services is using esx top to troubleshoot a problem with one of their ESXi hosts Host disconnection from vCenter server as well as sluggish perform when performing tasks on the host have been observed.
Based on the output in tin- exhibit, what three corrective actions can be taken to resolve the issue? (Choose three)
A.
Increase the CPU Reservation on FileServer01
B.
Decrease the number of vCPUs in use on this host
C.
Migrate the FileServer01 virtual machine to another host
D.
Increase the number of Physical CPUs in the host
E.
Increase the amount of RAM in the host because swapping is occurring
Explanation:
In TK answer have FileServer00 in option A but this server didn't show in exhibit.

I can't find documentation talking about that but I choose the answers that more correct in my opnion. For example, the exhibit didn't show information about SWAP, only CPU.

Fileserver01 is using all CPU server capacity.