An administrator is configuring vMotion in their environment. As a part of the implementation, an administrator is examining resource mapping for virtual machines.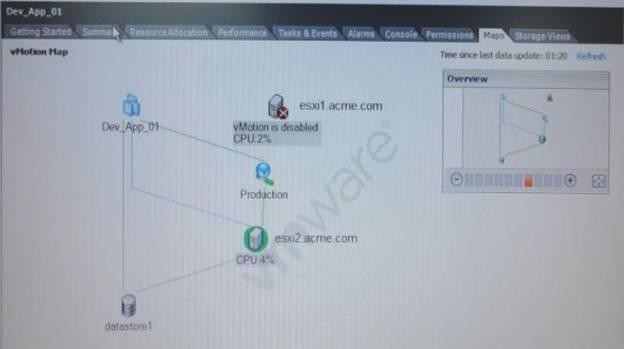 What is a likely cause of the error shown in the exhibit?
A.
vMotion has been disabled because the production network does not exist on both ESXi host.
B.
vMotion has not been enabled on the production port group
C.
vMotion has not been enabled on a VMkernel port group
D.
vMOtion has been disabled because datastored is no presented to both ESXi hosts
Explanation:

Challenged by Kreden 11-14-2011 Believes answer is D – However, if you read the following its obviously incorrect – C is still the correct answer.

This only shows up in the Maps when the vmotion OPTION is not checked in the PORT group – hence vMotion is DISABLED!

Other Notes: vMotion doesn't need a "production" network it can use any network. It also should not be using a "production" network.  Datastore has nothing to do with vMotion in this diagram – this is Maps – it would give a vmotion error if it wasn't on the datastore not a vmotion disabled..

Please see: http://cosonok.blogspot.com/2011/10/vcp510-vcp-on-vsphere-5-exam-cram-notes.html