Refer to the exhibit.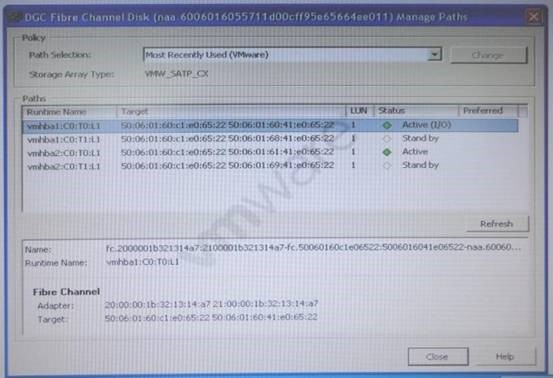 Based on the exhibit, what is the reason that none of the paths are marked as preferred?
A.
A preferred path has been selected, but the Refresh button must be pressed to reflect the change.
B.
A preferred path cannot be selected.
C.
A preferred path has not been chosen.
D.
A preferred path has not been chosen because insufficient Active paths exist
Explanation:

Page 163 from vsphere-esxi-vcenter-server-50-storage-guide.pdf

Most Recently Used (VMware) The host selects the path that it used most recently. When the path becomes unavailable, the host selects an alternative path. The host does not revert back to the original path when that path becomes available again. There is no preferred path setting with the MRU policy. MRU is the default policy for most active-passive storage devices.