Refer to the Exhibit.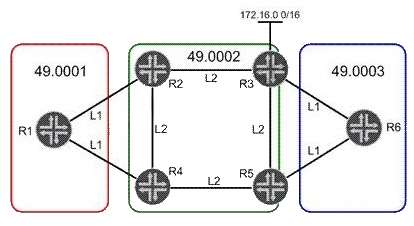 In the exhibit, network 172.16.0.0/16 is redistributed into IS-IS in Area 49.0002. R1 must use R2 to
access 172.16.0.0/16. All other traffic leaving Area 49.0001 must use R4.Which three steps will
accomplish this task? (Choose three.)
A.
Configure R1 to ignore the attached bit.
B.
Disable the attached bit on R4 in Area 49.0001.
C.
Enable an L2 adjacency on the link between R1 and R2.
D.
Leak network 172.16.0.0/16 into L1 on R2.
E.
Redistribute a static default route into L1 on R4.
Explanation: