Click the Exhibit button. — Exhibit – — Exhibit — TCP traffic sourced from Host A destined for
Host B is being redirected using filter-based forwarding to use the Red network. However,
return traffic from Host B destined for Host A is using the Blue network and getting dropped
by the SRX device. Which action will resolve the issue?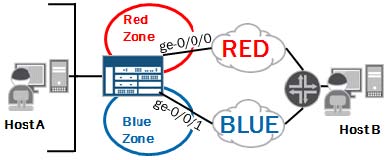 A.
Enable asyncronous-routing under the Blue zone.
B.
Disable TCP sequence checking.
C.
Configure ge-0/0/1 to belong to the Red zone.
D.
Disable RPF checking.