Click the Exhibit button. — Exhibit — — Exhibit — You have configured your SRX device to
download and install attack signature updates as shown in the exhibit. You discover that
updates are not being downloaded. What are two reasons for this behavior? (Choose two.)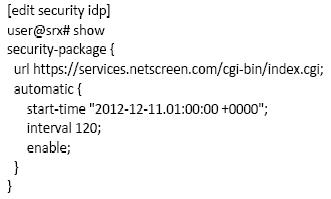 A.
No security policy is configured to allow the SRX device to contact the update server.
B.
The SRX device does not have a DNS server configured.
C.
The management zone interface does not have an IP address configured.
D.
The SRX device has no Internet connectivity.