Refer to the Exhibit.
— Exhibit –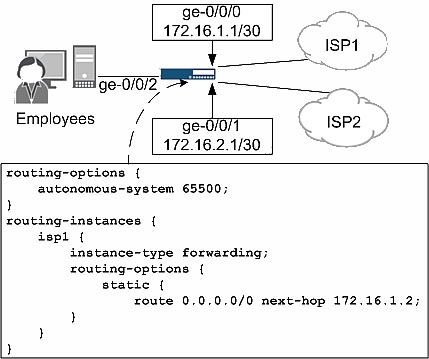 — Exhibit —
In the network shown in the exhibit, you want to forward traffic from the employees to ISP1 and
ISP2. You want to forward all Web traffic to ISP1 and all other traffic to ISP2. However, your
configuration is not producing the expected results. Part of the configuration is shown in the
exhibit. When you run the show route table isp1 command, you do not see the default route listed.
What is causing this behavior?
A.
The autonomous system number is incorrect, which is preventing the device from receiving a
default route from ISP1.
B.
The device is not able to resolve the next-hop.
C.
The isp1 routing instance is configured with an incorrect instance-type.
D.
The show route table isp1 command does not display the default route unless you add the
exact 0.0.0.0/0 option.
Explanation:

Reference:http://kb.juniper.net/InfoCenter/index?page=content&id=KB17223