Refer to the Exhibit.
— Exhibit –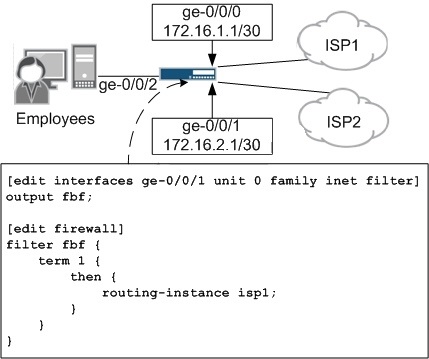 — Exhibit —
In the network shown in the exhibit, you want to forward traffic from the employees to ISP1 and
ISP2. You want to forward all Web traffic to ISP1 and all other traffic to ISP2. While
troubleshooting, you change your filter to forward all traffic to ISP1. However, no traffic is sent to
ISP1.
What is causing this behavior?
A.
The filter is applied to the wrong interface.
B.
The filter should use the next-hop action instead of the routing-instance action.
C.
The filter term does not have a required from statement.
D.
The filter term does not have the accept statement.
Explanation:

Reference:http://kb.juniper.net/InfoCenter/index?page=content&id=KB24821