Refer to the Exhibit.
— Exhibit –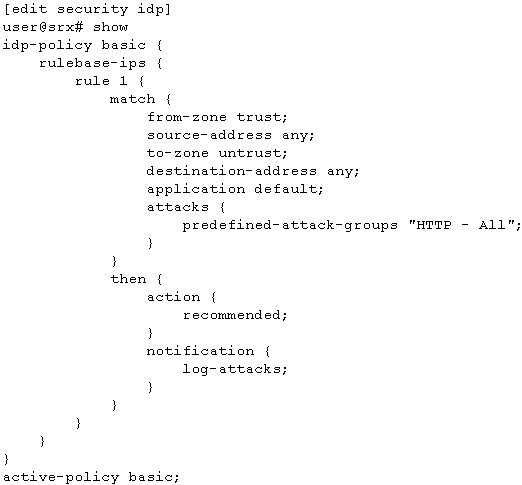 — Exhibit —
You receive complaints from users that their Web browsing sessions keep dropping prematurely.
Upon investigation, you find that the IDP policy shown in the exhibit is detecting the users'
sessions as HTTP:WIN-CMD:WIN-CMD-EXE attacks, even though their sessions are not actual
attacks. You must allow these sessions but still inspect for all other relevant attacks.
How would you configure your SRX device to meet this goal?
A.
Create a new security policy that allows HTTP for all users and does not apply IDP.
B.
Modify the security policy to add an application exception.
C.
Modify the IDP policy to delete this particular attack from the IDP rulebase.
D.
Modify the IDP policy to add an exempt rulebase rule to not inspect for this attack.
Explanation: