Your company has a main office and a branch office. The relevant portion of the network is configured as shown in the exhibit. (Refer to the Exhibit.)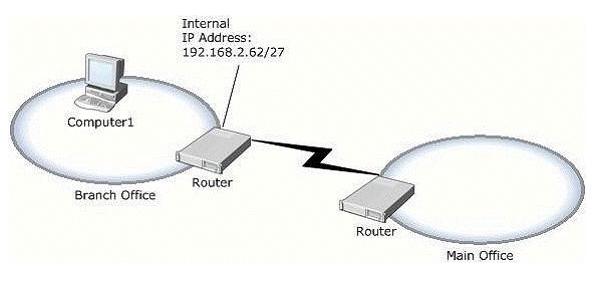 In the branch office, you deploy a new computer named Computer1 that runs Windows 7. You need to assign an IP address to Computer1.
Which IP address should you use?
Exhibit:
A.
192.168.2.30
B.
192.168.2.40
C.
192.168.2.63
D.
192.168.2.65
Explanation:
Internal IP Adress of router is 192.168.2.62/27
Leaves 5 bits for range = 32 addresses (including the 2 reserved addresses)
Subnet Mask = 255.255.255.224

Address: 192.168.2.62 11000000.10101000.00000010.001 11110
Netmask: 255.255.255.224 = 27 11111111.11111111.11111111.111 00000
Wildcard: 0.0.0.31 00000000.00000000.00000000.000 11111
Network: 192.168.2.32/27 11000000.10101000.00000010.001 00000

Network Address : 192.168.2.32 (reserved)
Address of First Host : 192.168.2.33
Address of Last Host : 192.168.2.62
Broadcast Address : 192.168.2.63 (reserved)

Acceptable IP range: 192.168.2.33 – 192.168.2.62

Therefore
192.168.2.30: is out of range (in the wrong subnet, not subnet 2).
192.168.2.40: is accepable (in correct subnet, and not reservered).
192.168.2.63: is reserved for Broadcast (in subnet, but reservered).
192.168.2.65: is out of range (in the wrong subnet, not subnet 2).

Accepable IP ranges for those interested(excluding the 2 reserved IP addersses):
Segment 1: 192.168.2.1 – 192.168.2.30
Segment 2: 192.168.2.33 – 192.168.2.62
Segment 3: 192.168.2.65 – 192.168.2.94
Segment 4: 192.168.2.97 – 192.168.2.126
Segment 5: 192.168.2.129 – 192.168.2.158
Segment 6: 192.168.2.161 – 192.168.2.190
Segment 7: 192.168.2.193 – 192.168.2.222
Segment 8: 192.168.2.225 – 192.168.2.254

Segments for those interested(including the 2 reserved IP addersses):
Segment 1: 192.168.2.0 – 192.168.2.31
Segment 2: 192.168.2.32 – 192.168.2.63
Segment 3: 192.168.2.64 – 192.168.2.95
Segment 4: 192.168.2.96 – 192.168.2.127
Segment 5: 192.168.2.128 – 192.168.2.159
Segment 6: 192.168.2.160 – 192.168.2.191
Segment 7: 192.168.2.192 – 192.168.2.223
Segment 8: 192.168.2.224 – 192.168.2.255