Refer to the Exhibit.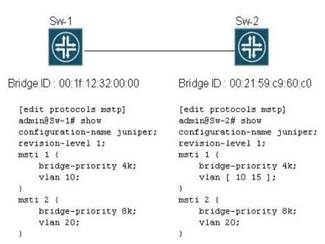 Based on the exhibit, which two statements are true? (Choose two.)
A.
Sw-1 and Sw-2 both claim to be MSTI 1and MSTI 2 root bridges; VLAN-to-instance fields will
not match in the BPDU's MSTI fields.
B.
Both Sw-1 and Sw-2 are in different MSTP regions.
C.
Sw-2 will calculate Sw-1 as CST root.
D.
Sw-1 and Sw-2 will each claim to be CST root.