Refer to the Exhibit.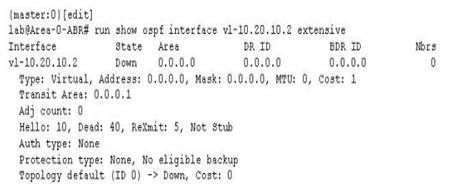 Your company is integrating another OSPF area into your existing OSPF infrastructure. You
created a virtual link that spans Area 2 and connects Area 3 to the backbone area. Based on the
exhibit, what is preventing the adjacency?
A.
The interface configured for the virtual link is incorrect. It should be a vt and not a vl interface.
B.
No designated router (DR) has been elected.
C.
The backup route to Area 2 has not been configured.
D.
The wrong transit area is configured.