Refer to the Exhibit.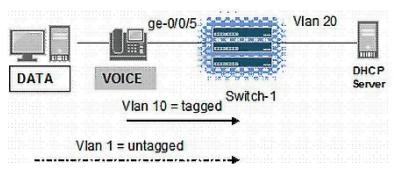 You are attaching into an EX Series switch-1a legacy IP phone that does not support LLDP-MED,
but does allow configuration using DHCP, as shown in the exhibit. Your existing network QoS
policies dictate that VoIP traffic must traverse over VLAN 10.Which two actions put VoIP traffic
onto VLAN 10? (Choose two.)
A.
Configure protocols cdp on switch-1.
B.
Manually configure the voice VLAN on the IP phone.
C.
Configure vlan 1 under forwarding-options bootp.
D.
Configure interface ge-0/0/5 under forwarding-options bootp.