Refer to the exhibit, An administrator create a new interface object named Dev and configured
dynamic mapping for the wan2 interface on the Head Office FortiGate. A new policy from internal
to Dev is configured. Which statements is correct regarding the installation of the Head Office policy
package?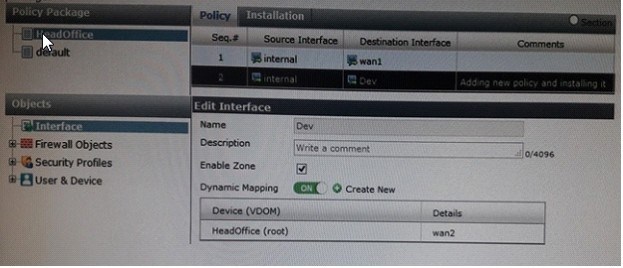 A.
A new zone named Dev with member interface wan2 and a poky from internal to Dev will be created on the
FortiGate device.
B.
A new poky from internal to wan2 will be created locally on the FortiGate.
C.
Dev is FortiManager reference for interface on the HeadOffice FortiGate. No zone is created on the FortiGate.
D.
The install will fail because wan2 cannot be mapped to Dev. This is not a valid configuration.