A FortiGate unit is configured with three Virtual Domains (VDOMs) as illustrated in the exhibit.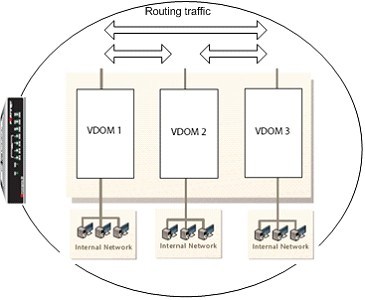 Which of the following statements are true if the network administrator wants to route traffic
between all the VDOMs? (Select all that apply.)
A.
The administrator should configure inter-VDOM links to avoid using external interfaces and routers.
B.
As with all FortiGate unit interfaces, firewall policies must be in place for traffic to be allowed to
pass through any interface, including inter-VDOM links. This provides the same level of security
internally as externally.
C.
This configuration requires the use of an external router.
D.
Inter-VDOM routing is automatically provided if all the subnets that need to be routed are locally
attached.
E.
As each VDOM has an independant routing table, routing rules need to be set (for example, static
routing, OSPF) in each VDOM to route traffic between VDOMs.