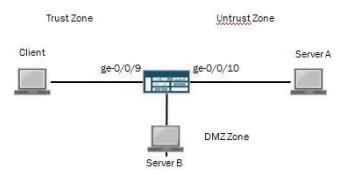 The client is routed to Server A by default You have just implemented filter-based forwarding to redirect specific traffic from the client to Server B. Server B will then send that traffic to Server A. After finalizing this implementation, you notice reverse traffic from Server A back to the client is being dropped
Which statement describes why the reverse traffic is being dropped?
A.
The filter-based forwarding unidirectional-only option has been enabled.
B.
The MAC caching configuration option has not been enabled.
C.
The Junos OS performs a route lookup on the reverse traffic and drops the traffic due to a zone mismatch.
D.
The Junos OS performs a security policy check in the fast path packet flow on traffic matched by a stateless filter.