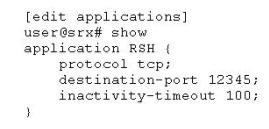 Your company uses a custom-built application that uses RSH. You have configured a new application definition to support it on your SRX Series device as shown in the exhibit, and you applied the application to the relevant security policy. After you commit the configuration, users report that they can no longer interact with remote devices.
What is causing the problem?
A.
The source-port parameter is missing.
B.
The inactivity timeout value is too low
C.
The application-protocol parameter is missing
D.
The protocol parameter is incorrect.