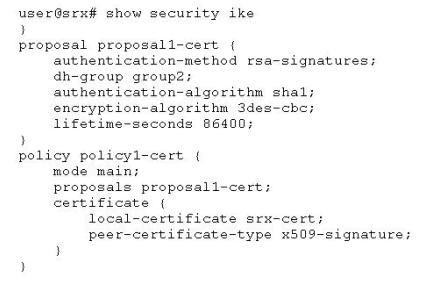 A junior member of the network team has set up a new VPN tunnel using a PKI certificate and is unable to establish the tunnel After troubleshooting the problem and confirming that the proposals and encryption algorithms match on both sides, they ask you for help.
Referring to the exhibit, what is the cause of this problem?
A.
The authentication method must be changed to pre-shared-keys to make use of the PKI certificate
B.
The proposal set is missing which will cause the VPN tunnel to not establish.
C.
PKI-based VPN tunnels cannot use main mode; aggressive mode must be used.
D.
There is no trusted CA configured, which is required for PKI-based tunnels.