Click the Exhibit button.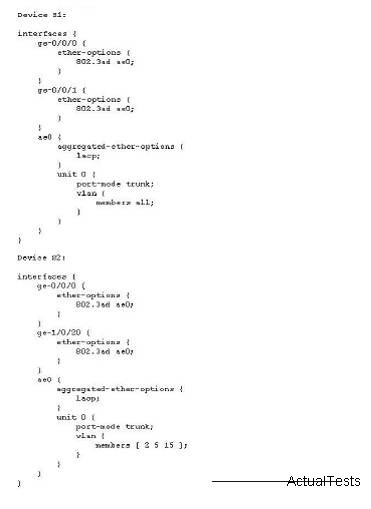 Devices S1 and S2 have the interface configurations as shown in the exhibit. You attach ge-0/0/0 on S1 to ge-0/0/0 on S2. You attach ge-0/0/1 on S1 to ge-1/0/20 on S2. However, the ae0 interface remains down on both S1 and S2. What should you change to cause the ae0 interface to come up?
A.
You should use consecutive interfaces on S2.
B.
You should use interfaces on S2 that are on the same member of the Virtual Chassis.
C.
You should configure at least one switch to run LACP in active mode.
D.
You should make the list of VLANs on the ae0 interfaces on S1 and S2 match.