Click the Exhibit button.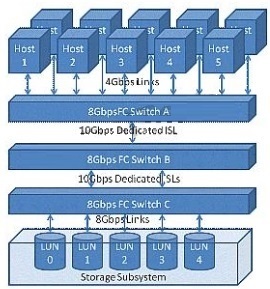 The customer configuration shown in the exhibit is not meeting the throughput needs of a newly
installed application. The application's I/O profile consists of 100% 4 kilobyte reads and all servers
require a sustained bandwidth of 150 MBps.
Which location within the configuration presents a performance bottleneck?
A.
Links between hosts and Switch A
B.
Inter-switch link between Switch A and Switch B
C.
Inter-switch link between Switch B and Switch C
D.
Links between Switch C and storage subsystem
Explanation: