Refer to the Exhibit.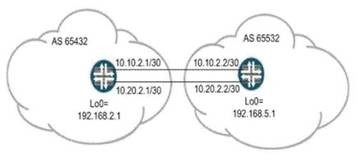 A customer is trying to configure a router to peer using EBGP to a neighbor. As shown in the exhibit, two links are being used for this configuration. The goal of this configuration is to load- balance traffic across both EBGP links.
Which configuration accomplishes this goal?
A.
{master:0}[edit]
Juniper@External-BGP# show protocols bgp
group External {
multihop;
local-address 192.168.2.1;
peer-as 65543;
neighbor 10.10.2.2;
neighbor 10.20.2.2;
}
{master:0}[edit]
lab@Area-0-ABR# show routing-options
static {
route 192.168.5.1/32 next-hop 192.168.2.1;
}
autonomous-system 65432;
B.
{master:0}[edit]
Juniper@External-BGP# show protocols bgp
group External {
multihop;
local-address 192.168.2.1;
peer-as 65543;
neighbor 192.168.5.1;
}
{master:0}[edit]
lab@Area-0-ABR# show routing-options
static {
route 192.168.5.1/32 next-hop [ 10.10.2.2 10.20.2.2 ]; }
autonomous-system 65432;
forwarding-table {
export load-balance;
}
{master:0}[edit]
lab@Area-0-ABR# show policy-options policy-statement load-balance term balance {
then {
load-balance per-packet;
accept;
}
}
C.
{master:0}[edit]
Juniper@External-BGP# show protocols bgp
group External {
multi-path;
local-address 192.168.2.1;
peer-as 65543;
neighbor 192.168.5.1;
}
{master:0}[edit]
lab@Area-0-ABR# show routing-options
static {
route 192.168.5.1/32 next-hop [ 10.10.2.2 10.20.2.2 ]; }
autonomous-system 65432;
D.
{master:0}[edit]
Juniper@External-BGP# show protocols bgp
group External {
multipath;
local-address 192.168.2.1;
peer-as 65543;
neighbor 10.10.2.2;
neighbor 10.20.2.2;
}
{master:0}[edit]
lab@Area-0-ABR# show routing-options
static {
route 192.168.5.1/32 next-hop 192.168.2.1;
}
autonomous-system 65432;